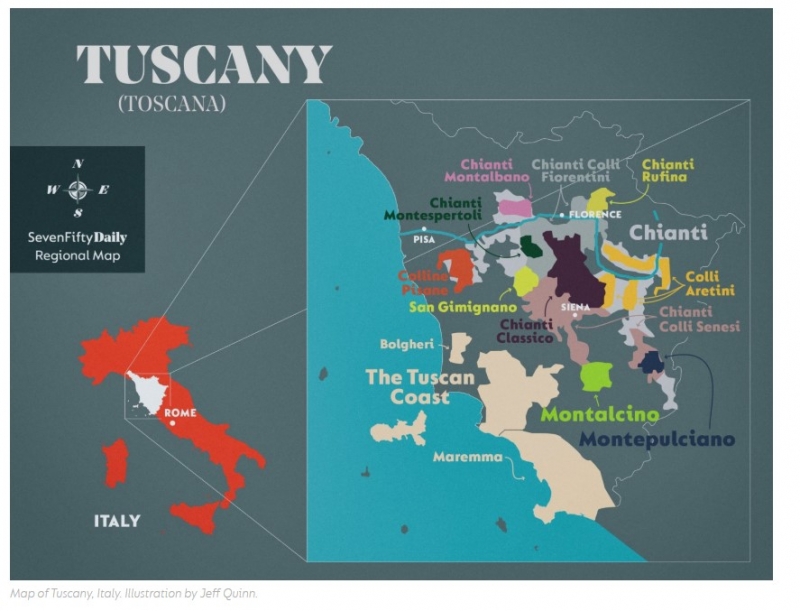 Here at BABO we are very proud of our Chianti and big fans of this beautiful style of wine. However, the terminology and rules around Chianti, like many international wines, can be a little confusing (even for those in the know). So, to help we have put this quick 'cheat sheet' together:
Chianti is pronounced: 'key-an-tee'
Chianti is a wine region and covers a large area of Tuscany in central Italy. It is considered one of the world's great wine regions. Only certain red wines that are made in this region can be called Chianti.
Wine has been made in the region for over two and a half thousand years.
The Chianti region is made up of seven sub-regions (plus Chianti Classico). The regions are: Chianti Rufina, Chianti Colli Aretini, Chianti Colli Fiorentini, Chianti Senesi, Chianti Colline Pisane, Chianti Montalbano and Chianti Montespertoli (see above map).
Our Chianti is from vineyards near Vinci ( quick fun fact: Vinci is the birthplace of Leonardo Di Vinci, his name translated means Leonardo from Vinci) and is in the Montalbano sub-region.
The Chianti region has the highest designation of quality (DOCG) that can be given under Italian law. DOCG stands for Denominazione di Origine Controllata e Garantita.
What makes a Chianti DOCG?
To be called Chianti, strict rules must be met. The DOCG rules are managed by the Italian government.
All DOCG wines from each producer are analysed and tasted by a government–licensed panel before being bottled. Once approved, the wines are "guaranteed" with a numbered governmental seal across the cap or cork.
Wines have to be from fruit sourced, produced and bottled within the Chianti region.
Chianti must be made from at least 70% Sangiovese fruit. If blended, only certain other varietals can be used and there are limits to the quantities ( at BABO our Chianti is always 100% Sangiovese).
The release of each vintage is tightly controlled. No Chianti from the previous vintage can be released before 1 March the following year. For example, the earliest the 2020 vintage of Chianti can be released is 1 March 2021. We actually release our Chianti much later, as we mature for at least 8 months in cement vats.
There are other regulations including minimum alcohol levels and labelling.
There is a large variety of different styles, but in very broad terms Chianti is typically a medium-bodied, bright, fresh and fruity wine. Our wine is very much made in that style.
Learn more…
This is just a little snapshot of this amazing wine, you can find out more by clicking on the great articles in the links below. And if you want to find out a little more about our Chianti please click here
Here are some great links to learn more about Chianti:
https://winefolly.com/deep-dive/chianti-wine-tuscany/
https://blog.vinfolio.com/2019/10/04/the-ultimate-guide-to-chianti-wine/
With thanks to Sevenfiftydaily: https://daily.sevenfifty.com/
Copyright illustration: Jeff Quinn: