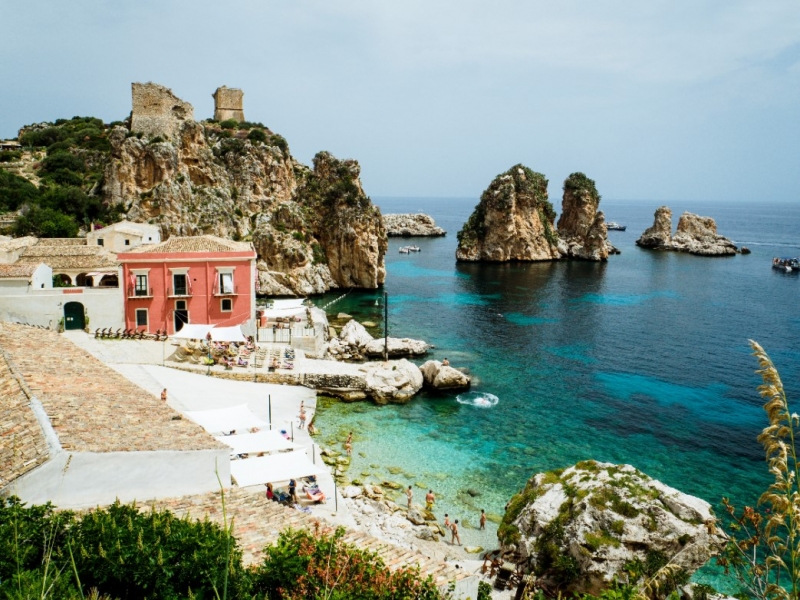 Sitting in lockdown on a dull day in Melbourne and looking at maps and photographs of Sicily is bittersweet. Ohh how much we love and miss it!
The island is a vibrant collage of Mediterranean, Middle Eastern, and African culture. Famed for its beautiful countryside, stunning beaches and some of the most picturesque towns you will see anywhere. The island is most famous for the breathtaking Mount Etna, one of the world's most active and spectacular volcanoes. ( the name Etna's origin is ominously from the Greek for - 'i burn')
Sicily also has some of the most exciting food and wine you will find in all of Italy. As one of the most southerly wine regions in Europe, the very warm climate lends itself to riper fruits ( think darker, jammier fruit flavours like plums for reds), but it can also produce refreshing and crisp white wines ( like Grillo). It is also the home of one of Italy's most renowned fortified sweet wines, Marsala.
Nero d'Avola is indigenous to Sicily, literally meaning 'Black of Avola' referencing the town of Avola on the east coast of the island. The fruit typically produces medium-bodied wine with naturally high acidity, generous tannins and a savoury finish that makes it a wonderful food partner. A classic match is 'salsiccia piccante', a traditional Italian spicy sausage and pasta dish ( definitely try with a spicy pizza or with your next barbecue).
We have made Nero d'Avola in Sicily for over 10 years in the Agrigento wine region on the western side. The vineyard is on the banks of Lago Arancio (Lake Arancio), but we source higher up the slopes where the soils become more clay and limestone-based.
Justin, our winemaker, specifically looked for fruit from here because he wanted to make wines with more structure, fruit intensity and savoury notes. 2018 is our latest vintage and is a perfect example of what we are trying to achieve. Dark red in colour, the palate shows dark plum and aniseed notes infused with mountain herbs and a hint of spice. A wonderful tannin structure makes this a delicious vintage.
To find out a little more about our 2018 BABO Nero d'Avola wine click here.